2016: record number of environmentalists died in defending eco rights
July 17, 2017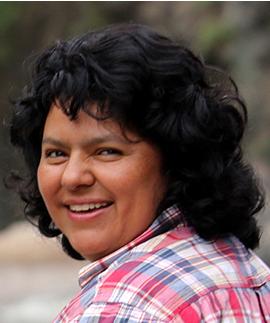 Berta Cáceres in 2016 killed in Honduras
John Knox, UN special rapporteur on human rights and the environment, said: "Human rights are being jettisoned as a culture of impunity is developing".
Last year was the most perilous ever for people defending their community's land, natural resources or wildlife, with new research showing that environmental defenders are being killed at the rate of almost four a week across the world.
Two hundred environmental activists, wildlife rangers and indigenous leaders trying to protect their land were killed in 2016, according to the watchdog group
Global Witness
– more than double the number killed five years ago.
And the frequency of killings is only increasing as 2017 ticks by, according to data provided exclusively to the Guardian, with 98 killings identified in the first five months of this year.
Most environmental defenders die in remote forests or villages affected by mining, dams, illegal logging, and agribusiness. Many of the killers are reportedly hired by corporations or state forces. Very few are ever arrested or identified.
Read on at
Guardian.com